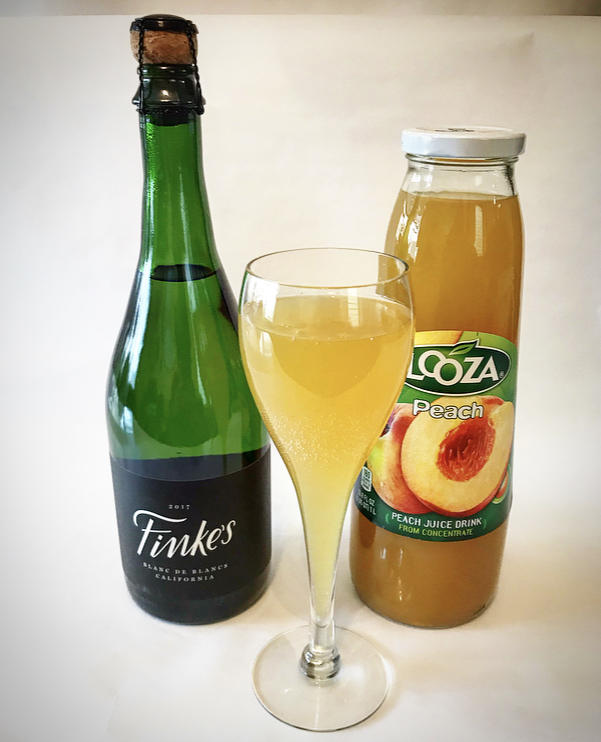 What mama doesn't love brunch? If you are looking for a new spin on your brunch cocktails we've got you. You can upgrade your mimosa to a fresh and sophisticated brunch drink, the Peach Bellini with this easy Bellini recipe.
Bellini Recipe
Ingredients:
6 oz sparkling wine, chilled
2 oz peach nectar
Instructions:
Pour all ingredients into a champagne flute.
That's it. Super simple, pour, sip, enjoy! If you like the recipe you can download the cocktail recipe card below.
A couple cocktail tips:
Be sure to use Peach nectar and not Peach Juice in this easy Bellini recipe. Both Looza and Goya make peach nectars perfect for this drink and can be found in many groceries stores around the country.
Bellini are in fact Italian as is Prosecco so if you want to be a traditionalist use prosecco instead of sparkling wine from another place.
A Thought On Upgrading Your Mimosa To a Bellini
Mimosa's are great! So no shade if that is the brunch drink you love. I love them too! I also like to mix it up every once in a while. You'll find the Bellini slightly sweeter and a little less acidic. This brunch cocktail is so easy to make, so just give a go and judge for yourself.
And One Small Rant on Bellinis and Mimosas
Don't use real champagne. Seriously what is the point of masking the taste and wasting that deliciousness? Just use a good California Sparkling, Spanish Cava or Italian Prosecco.
Remember all you need are Bubbles and Peach Nectar for this easy peach Bellini recipe. If you'd like the free printable recipe card for this drink,
click here.
P.S. If you are looking for a bubbles based drink for the evening try a Kir Royal. You can get the recipe by clicking here.