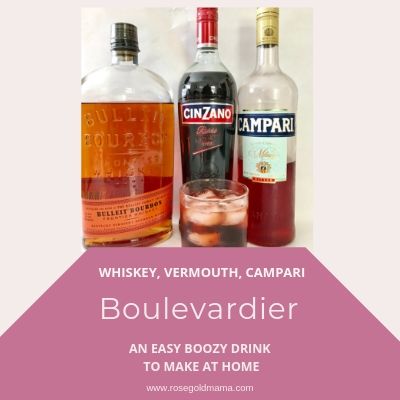 If you're looking for an easy to make pre-dinner drink that will impress, the Boulevardier is the drink for you. This drink, also known as a bourbon negroni, sounds fancy but only requires three ingredients: bourbon, sweet vermouth and campari. So, if you're also wondering how to drink campari, this a great start. Download free the recipe card below, so you don't forget the right combination for this amazing drink.
Boulevardier Ingredients
1.5 parts bourbon/rye
1 part Campari
1 part sweet vermouth
Instructions for this Bourbon Negroni
Despite the fancy name, the Boulevardier is one of the simplest cocktails you'll ever make.
Served on the rocks:
Simply add a handful of ice to a whiskey glass. Then pour all ingredients into the glass and stir.
Served Up (better if using as an apertif):
Add all ingredients to a cocktail shaker. Fill with ice. Shake 20-30 times. Strain into a glass martini glass. .
The Boulevardier Cocktail
Sophisticated yet simple, this drinks is a great aperitif. It's also a wonderful way to drink campari. Though boozy, this also makes a great batch cocktail. If you are having friends you can make this in a pitcher ahead of time. Just remember while it is delicious, it is also straight booze!
Download the recipe card below, so you can remember how to make this amazing cocktail.
If you'd like something a bit more festive than the boulevardier why not try a margarita?
Like what you read? Sign up below to get delicious easy to make cocktail recipes straight to your inbox each week.