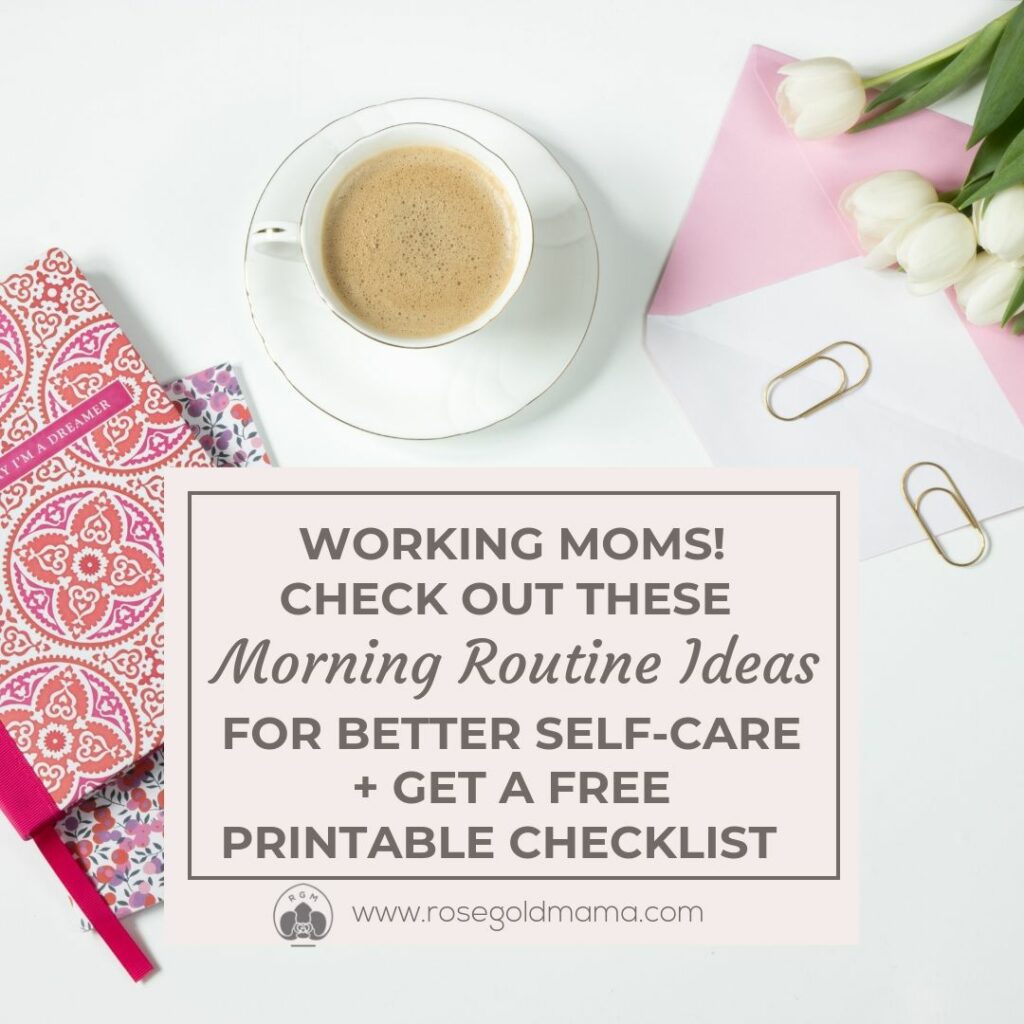 Why a great morning routine?
How you start the morning impacts how well the rest of your day goes. If you want to have a great day, and who doesn't, starting your morning off on the right foot will help to take you there. Establishing a morning routine is also a form of self-care. So, don't leave how your day starts to chance. Start your own best morning routine for success with these morning routine ideas. You can also download the FREE morning routine checklist below to help you.
By having a set routine, you can help to ensure that each and every day starts off in the best possible way. This is especially true for working moms who have little to no time in the morning for themselves.
Establishing a morning routine can be difficult
So, if having a great morning routine is key to living a life you love, why don't most people? There are a few reason, the two biggest seem to be, they don't think they have the time and that they don't track their routines.
It's true that what's isn't measured isn't managed and what's isn't managed doesn't matter. Another way to say this, is if a behavior isn't already a habit for you and you don't take the time to track it then it'll never become a habit
The Best morning routine IDEAS Become Habits
The best routines are second nature AKA a habit. To get there you have to tailor your routine to what works for you. Now, there are proven steps to successful routines, but you don't have to use them. As you read through them, know that what works best for you is what will help you to plan your day productively and positively.
The best morning routines for success have these 3 steps in common
Experts agree that great morning routines are a form of self-care. All the articles, books and interviews on morning routines seems to have these three things in common:
Sweat
Moving your body with purpose, in the morning, seems to be key to starting the day off on the best foot possible. The interesting part is this can vary from as little as 10 minutes to as long as 90 minutes. You simply need to choose a movement and do it for 10 minutes. Stretching (yes, it counts), yoga or walking are great ways to start. If you are already working out, try 10 minutes of HIIT or a quick jog to get your blood pumping. The longer you can go the better! Keeping it real though, if you can only force 7 minutes, that's still better than none. Get up, set your timer for 10 minutes and move! Intentional movement is one of the best morning routine ideas.
Visualize
Knowing what you want is the first step in getting what you want. To start your day off right, take a moment breathe deeply and visualize what you want in life. You can focus on want you want to get out of that very day, that week, that month or further down the road. The timeline isn't as important as is creating a vivid mental picture of what you want. Picture your desires in your mind and let your emotions be free to feel what it feels like when you're in the place you want to be.
Prioritize
There are SOOOOOO many distractions in the day. Establishing a morning routine that helps you to ignore the distractions and focus in on what matters to you is a great way to make the most of each day. Take a moment each morning to write down the top 3 things you want to accomplish that day. If you're having trouble figuring it out, then think about how you want the day to end. Here are a few probing question to help:
How do you want to feel at the end of the day?
What do you need to accomplish to feel that way?
What would you need to do today to move closer to your goals?
Bonus: Drink Water
There is one other key part to a morning routine that seems to come up often when discussing the best morning routines and that is one of the basic tenets of self-care, drink water. People will debate if you should drink cold water or lemon water or hot water. Just drink some water. It'll do your body good.
Take Action on Your Best Morning Routine
If you are feeling a bit overwhelmed by taking action on all of these morning routine ideas, don't. You don't need to do all these things at once. Choose one and commit to doing it for the next three weeks. If it goes well, then add another step. If it's doesn't go well then swap in a different step to see if that is better. You can use the free printable below, to track. Remember, starting the day in a positive and productive way is key to living a life you love, especially for working mamas.
Treat Yo'Self
It's not easy to change your schedule or find more time in the morning. Even though it's good for you, it's a challenge. When you finishing something challenging you should reward yourself! Each week think of something big or small and reward yourself for taking action on these morning routine ideas.
Create Your Best Morning Routine for Success
Establishing a morning routine is easy if you know where to start. Now, you do. You have the top 3 steps to help you establish a morning routine and plan your day productively. You also have access to the FREE morning routine checklist printable below to help you track. The next step is to take action. Print out the free morning routine checklist, pick the step you want to start with, choose your reward and you'll be on your way to better mornings!
If you'd like even more morning routine ideas check out this article on the working mom's 5 minute morning routine.