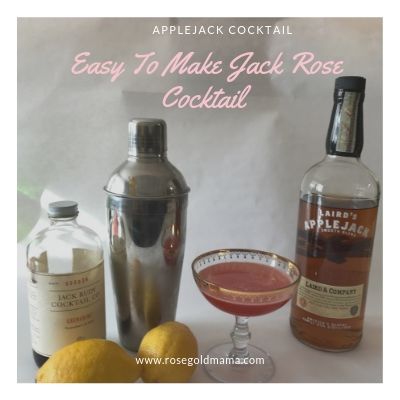 If it's gonna be a hot one and you're hankering for a cool sophisticated cocktail to sip after a long day. The Jack Rose drink, is just the one for you. It's very easy to make and fun to drink. If you are into Bourbon this applejack drink is a nice way to mix things up. If you are looking for a recipe with grenadine syrup, this a great, not too sweet one to try. Plus, you only need three ingredients! Download the free printable recipe card so you don't forget how to make the amazing summer drink.
Jack Rose Drink Recipe
Ingredients
1.5 parts Applejack Brandy
¾ part Lemon Juice
½ part Grenadine syrup
Instructions for this applejack drink
The Jack Rose drink is one of the easiest to make cocktails you'll ever try simply pour all ingredients into a shaker. Fill with ice. Shake 20-30 times. Strain into a glass with fresh ice.
The Jack Rose Cocktail
Sophisticated yet simple, this a wonderful alternative to a Manhattan, it's less dense which makes it ideal for a hot summer night.
 If you'd like something a bit more festive than the Jack Rose Drink why not try a perfect margarita?  
Like what you read? Sign up below to get delicious easy to make cocktail recipes straight to your inbox every Thursday.