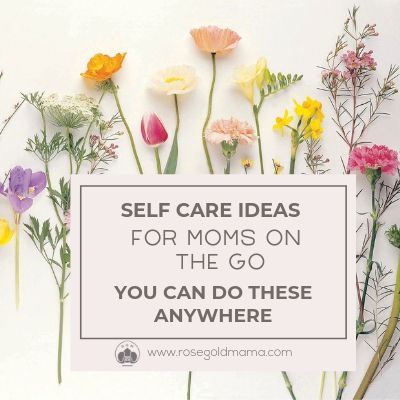 Self-care for busy moms is an elusive beast. Everyday there's a hunt to find it and most days it alludes us. Here's a secret, it's hiding right in front of you. If it were a snake it woulda bit ya. Parts of your self-care routine can be worked into your current downtime. There are examples of self-care that can become a part of your daily commute, the time you spend waiting in line, waiting in your car or sitting in the doctor's office. The self-care tip is use this downtime to do something good for yourself. After reading this article, if you need more ideas, download the free printable self-care checklist at the bottom of this page. It comes with a bonus printable self-care ideas list too.
3 Self-Care Ideas for Busy Moms
Listen to something nice on your commute.
Whether driving a car, riding the subway or taking the bus, you've got time to listen on your way to work. This self-care example means using that time to listen to something that makes you feel good. This could be a favorite funny podcast, informative audio book or feel-good playlist. If you don't have a go-to feel good playlist yet, add creating one to your self-care checklist. Don't let that time go to waste but just sitting through it. Listen to something that will brighten your day or help you learn. Self-care for moms means making the most of your commute.
Sing out loud while you do your chores.
Chore time, can be bore time, but it doesn't have to be. Part of your self-care routine can be worked into chores. You can take the above self-care example and apply it to chore time. You can also amplify that self-care ideas by focusing on your feel-good play list and singing out loud. Invite your kids to join in the fun and belt out your favorite tunes together. Doing the laundry is a lot more fun and therapeutic when you're singing along to your favorite classic rock or belting out that Celine Dion song that is secretly your favorite. A huge plus is adding singing out loud to your self –care routine doesn't take any extra time or money. Self-care for moms can be inexpensive and fun.
Light a scented candle
Aromatherapy is a thing for a reason. Take the time to actively engage your sense of smell and create a mood that suits you by lighting a candle or turning on an oil diffuser while you go through the day. It takes less than 10 seconds to take care of yourself in this way. Choose a scent that will reflect how you want to feel. Looking to feel energized, go with a citrus based scent. If you want to relax, choose something with a lavender base. If you want to feel comforted go with vanilla. Engaging your sense of smell as a part of yourself care routine is one of the quickest ways to care for you. Self-care for moms should indulge the senses.
Update Your Self-Care Routine
Now, think of the down time you have when you're on the go and how you can work some of these self-care ideas into your day. If you'd like more self-care ideas or a better way to organize and track your self-care download the free printable self-care checklist below.