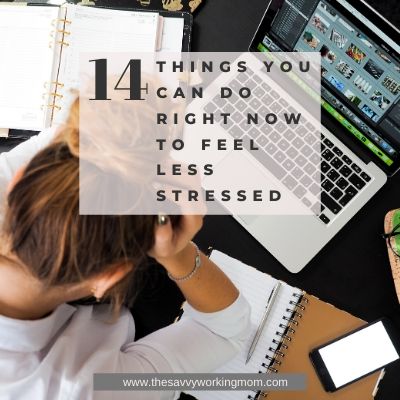 Sometimes it comes out of nowhere, and other times you feel it building up. No matter what, stress will find its way into your life. It's a natural part of being a busy working mom. When these moments come, it's easy not to know what you can do right now to feel less stressed. That's why we've created this list to help you manage those stressful times. After you read the article, print out the worksheet at the end of this post and keep it someplace that is easily accessible. Then when you're having a lousy day wondering how to be happier or less overwhelmed, you can read it, improve your mood and relax.

Take a look below if you're feeling stressed out and wondering "what do I do now?"
At Home
Take A Walk
When time isn't good for you at home, sometimes you need to take a walk. Sometimes you need a moment to breathe some fresh air, feel the sun on your face, and the breeze in your hair. These will help to alleviate what's going on.

Nap
Sometimes we feel stressed and irritable simply because we're tired. In those moments, rather than pushing through, take a nap. Even 20 minutes of lying down can change your entire mood.

Do 4 Minutes Of Deep Breathing
Our minds and bodies are connected. Taking a moment to practice deep breathing can help alter your state for the better. Set an alarm for 4 minutes and breathe in and out as slowly as you can. Aim to get at least a count of 10 on the breath in and 10 on the breath out.

Bake
Bake something for yourself and your family. Baking helps to relieve stress and anxiety. It doesn't have to be something complicated we can make something simple the point is to switch up what you're doing and know that you're doing something kind for others. I keep a box of brownie mix in my house just for this. It takes about 5 minutes to put together. I instantly feel better when I start to mix the batter.

Watch Something Funny
Take a moment to watch something funny. It can be a comedy, a sitcom, or a standup routine. Laughing is a sure way to feel better.

Hug Someone
Take a moment to give someone you love a deep hug. Squeeze them tight and feel the love they have for you. This means that you need to hug them for at least 5 seconds, if not longer. In this instance, time does matter.
At Work
Read Your Gratitude List
Take a moment to reflect on the things that you're grateful for. When you're stressed or overwhelmed, it can be hard to think about what those things are, so in advance of this, make a list of all the things for which you are grateful. Keep it in your desk so that when mentally tough times come, you can pull it out, look at it, and be reminded of what is fantastic in your life.

Go Outside
Sometimes a change in the physical environment can also create a positive change in our mental stance. Take a moment to walk around the block or the parking lot and let go of what's troubling you.

Text Someone You Love
When the going gets tough at work, it's essential to take a moment to step outside of a situation so that you can be objective. One way to do this is to take a moment to text someone you love. Tell them how wonderful they are, then you'll brighten not only your day but also theirs.
Google A Funny Joke
Jokes make us laugh, take a moment to google a funny joke, and then share that joke with someone at your job. The human interaction and laugh will help you to feel better.
Out and About
Smile
Smiling can be overrated, and it's super annoying when someone tells you to do it on the street, having said that when you smile at a stranger, the smile you get back can help to change your mood. Give it a try if it's not for you, then don't keep doing it. You might be pleasantly surprised by how good it feels to receive a smile from another human being.

Forgive And Forget
When it comes to people who wronged you, I like to say forgive but don't forget. When it comes to forgiving yourself, I'm in the opposite camp. Forgive yourself and move on. Forgive yourself and forget what was bothering you. Sometimes we stress because we're beating ourselves up over something over perceived wrong that we committed. Forgive yourself and move on; this will help you to feel better.

Play Some Tunes
Put your headphones in and turn on some positive music. Listening to upbeat music can improve your vibes.

Sprint
Take a moment to do a quick sprint down the block or up a flight of stairs. Raising your heart rate is actually a stress reliever.

Take Action
When you're feeling out of sorts, it can be hard to shift your mood without taking action. Thankfully you now have a list of things that you can do right now to help you feel less stressed. Print out the list below and keep it someplace that is easily accessible. Remember, you don't need to feel stressed or guilty about taking time out to do this. When you are relaxed and focused, you're much more productive than when you're stressed, overwhelmed, or irritable. Pausing to address the feelings that you're feeling will help you to get more done in the long run.
For more ways to feel less stressed check out, Time Management Tips: 10 Ways To Say No.

Don't forget to sign up for the Rose Gold Mine, my free resource library. You'll get  free printable worksheets, workbooks, and checklists to help with goal setting, time management and self-care for busy moms.
Let's makeover your routine at How To Get Unstuck.