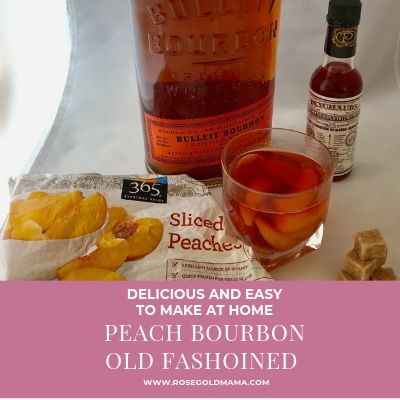 If you are looking for a sweet summer twist on the classic old fashioned cocktail look no further. A peach old fashioned will do the trick. The only thing that goes better with bourbon than bitters, are peaches! Seriously, a bourbon peach old fashioned is the way to go. If you prefer you can use rye but the sweetest of bourbon really blends well with the peaches.
Peach Old Fashioned Ingredients:
2 oz Bourbon (or Rye if you must)
2 Dashes of Bitters
3 Frozen Peach Slices
1 Demerara Sugar Cube
Ice
Instructions On How To Make A Peach Old Fashioned:
Put the sugar cube in the glass you'll use. Shake the bitters on top. Muddle (mashup) the sugar cube and bitters Add the bourbon/rye. Stir. Add the frozen peaches. Stir one more time. Garnish with an orange peel.
Thoughts On This Peach Bourbon Old Fashioned
I'm a whiskey mama and in particular I like the taste of bourbon. The sweetness of the peaches helps to mellow this booze forward cocktail as they melt. If you are into peaches and also like bourbon, you'll love this. Also pro-tip for any drink that needs chilling, if you run out of ice, frozen fruit is great substitute (how do you think I came up with this one).
Summer time is a great time for porch sipping, which means savoring each and every single sip. If you enjoy easy to make classic cocktails meant for savoring try an Old Fashioned. Just click here for the link