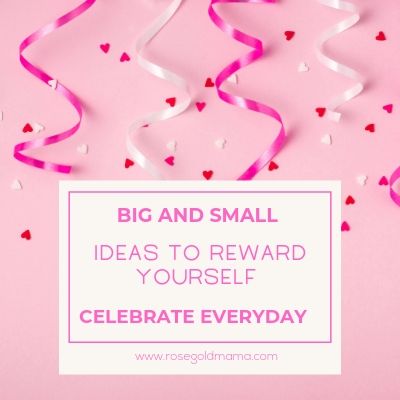 Mama, you do A LOT and it's so important that you take the time to reward yourself for it. Rewarding yourself can seem indulgent and even time consuming. But it's not. Rewarding yourself is not indulgent, it's necessary. It can be time consuming, and to be honest sometimes, it should be time consuming, especially after you've done something huge. Having said that, it doesn't have to be time consuming or even expensive. If you're wondering how to reward yourself, read on for a few ideas both big and small.
You can use the smaller ideas for small accomplishments and when you have little time and use the big ideas for those awe-inspiring accomplishments and when you have time to plan. And, so you don't forget the ideas, there is a free printable checklist at the bottom of this article. It has 10 ways to reward yourself as well as space so you can add in some ideas of your own.
Why You Need a List of Big and Small Rewards
Do you ever have trouble thinking about a way to reward yourself that isn't eating? Do you ever struggle with finding a small way to reward yourself after a long day, where you did a lot? It's normal but it's also a shame. You should celebrate yourself and your wins. You know you should, but sometimes it just seem to hard right? It seems hard because it also requires effort to celebrate. And, a big part of that effort is deciding what to do. Having a list of big and small ideas at your fingertips helps to reduce that effort and makes it more likely you'll actually reward yourself.
When should you treat yourself?
Every-freakin-day, mama. Everyday. You should take a moment to recognize yourself every single day. Rewards don't have to be time consuming or costly. They should be plentiful in your life. When you treat yourself, you celebrate yourself and that should be a very regular occurrence. Here are a few reason to celebrate you:
Handling a tough meeting well
Dealing with a tantrum (from your kids or a colleague) well
Achieving a major milestone at work
Buying a house
Getting through a hectic day without snapping at someone
Accomplishing everything on your to do list?
Making the day extra special for your family ?
Managing to wake up, get the kids out the door, get to work, get dinner on the table and get everyone in bed
If you did any of those things, they are all fantastic reasons to reward yourself.
A few ideas on how to reward yourself
Cook your favorite meal. If you are someone who loves to cook, go ahead and treat yourself to your favorite meal. Bonus Tip: If you can, get all those ingredients delivered so you don't have to go to the grocery store
Upgrade yourself. If you normally go to the spa for a mani-pedi, get the upgraded treatment. Go ahead and splurge on that extra foot massage or paraffin treatment that you've been eyeballing. If you don't normally get your nails done, give it a whirl.
Have a grown up slumber party. Take a long weekend with the girls. If you can't do a full long weekend, do a staycation at a city near you or in a neighborhood next to yours with your girlfriends. You can rent a hotel, have room service, paint each other's nails, watch Netflix and drink wine.
Make it a party for one. Do the above with just yourself. Taking alone time is a great way to reward yourself. Go ahead and book a staycation for yourself. Try booking a Friday evening and then sleep in on Saturday, so you can be home in time for lunch with the kids. Still, having a Friday evening to yourself with the ability to sleep-in and get some room service delivered will make a world of difference and is definitely a way to celebrate
Books. Buy your favorite book in hardcover or a book you've been eyeballing and take some time to read it
Delegate. Delegate all the chores in the house to someone else at for a day.
Pretty Pretty Things. Buy yourself something pretty. If you're into shiny go for jewelry. If you're into soft get some cashmere. Get yourself something nice and don't feel bad about it, you deserve it
Enjoy the View. Take the long way home and enjoy the view as you go
Workout. Take an exercise class that you've been meaning to sign up for. Try a barre class, a fancy cycling class or a new yoga studio.
Cheers. Go to happy hour with some of your best colleagues
Learn a new skill. Take some time out learn a new skill. Whether it's paining or rock climbing or macramé, take a class.
Bonus: Go to brunch with your girlfriends
Treat Yourself, You Deserve It.
Now you have a few different ways that you can reward yourself both big and small. There are just two more things to know.
Write these down somewhere (you can print out the sheet below). So that you have easy access to your ideas and never have to think hard about how to reward yourself.
Don't feel bad about rewarding yourself. You deserve it.
There you have it. In the meantime, click here if you are looking for way to be more productive or for a better to-do list template.