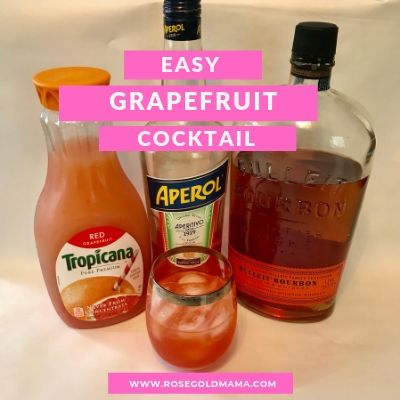 Grapefruit, bourbon and Aperol sounds like a weird combination, right? It's not, it's a winning combination. Seriously, the whiskey keeps it boozy but the grapefruit and Aperol balance it out in a tart, bitter, and just sweet enough way. It's a three ingredient cocktail, and super easy to make, so, what do you have to lose?
Download the free recipe card at the bottom of the article and try it today.
Grapefruit Cocktail Ingredients
1.5 parts bourbon/rye
1 part grapefruit
1 part Aperol
Instructions for this Grapefruit, Bourbon Aperol Drink
Served on the rocks:
Simply add a handful of ice to a whiskey glass. Then pour all ingredients into the glass and stir.
Served Up:
Add all ingredients to a cocktail shaker. Fill with ice. Shake 20-30 times. Strain into a glass martini glass.
The Grapefruit Cocktail With Bourbon and Aperol
I've had a Brown Derby before which is a Bourbon Grapefruit drink. Still, I was skeptical when I saw a drink with bourbon grapefruit AND Aperol on a menu. It was on a happy hour special so I gave it a go and was pleasantly surprised. I think you'll feel the same once you try this one.
This is an easy to make, unexpected and delicious bourbon drink. With Aperol being a "thing" this summer, this is sure to be a cocktail your friends will be excited to try.
Download the recipe card below, so you can remember how to make this amazing cocktail.
If you'd like something a bit more festive why not try a margarita?
Like what you read? Sign up below to get delicious easy to make cocktail recipes straight to your inbox each week.