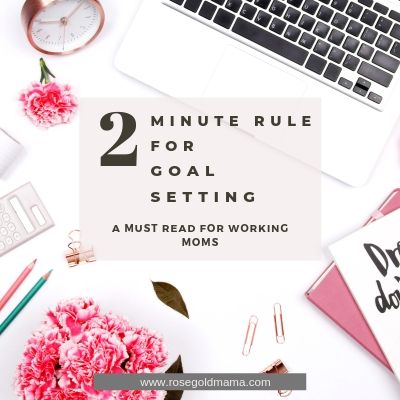 Do you ever have trouble starting a new habit or taking the first steps towards a new goal? You know you should eat better. Or maybe you made a weight loss goal and want to workout, but just can't seem to get started. If trying to start something new has you feeling frustrated it might be that the goal feels too big to accomplish.Sometimes we get to a place where we think, if I don't have 45 minutes to workout, what's the point of even trying. Feeling like there is just not enough time can lead you to feel like you can't do anything at all. The good news is that, that is simply not true . You can make progress with just two minutes. That is what this goal setting hack is all about, making progress in just two minutes.
You can also download the goal worksheet at this bottom of this page and get access to my free resource library to help you break through. The resource library has free printable worksheets, workbooks, and checklists to help with goal setting, time management and self-care.
Goals
The Two Minute Rule for New Habits is a great goal setting hack for this problem. The two minute rule is simply to do two minutes of what you are planning to do. Any goal, any habit, any process can be broken down into two minute increments. For example, you desire to eat healthier, the solution is to eat a salad for two minutes and if you do not like it, put it aside, begin to eat something else. However, once you begin eating the salad, it will probably be eaten completely. The main idea is to start eating for two minutes. The same can be done for working out. Work out for two minutes with any physical activity of your choice, such as walking around the block, yoga or jumping jacks. Set a timer for two minutes and go. You can even plan to go to the gym for just 2 minutes. It sounds silly, but it's not. You'll make more progress this way, 2 minutes at a time, then by doing nothing. Just do it.
Hobbies
The two minute rule also applies to hobbies and new habits such as writing. If you want to write begin doing it two minutes a day. While, a novel will not be quickly completed only writing two minutes a day ,you will start the writing process and most likely find that this small jumpstart has you on your way to writing much more. The same can be done for a goal to read more. Pick up a book and read for two minutes which is better than not doing it at all.
This goal setting hack helps to get you started. Often times getting started is all you need, to see huge gains. Once you start inertia kicks in and helps to keep you going. When it comes to your goals, doing something , no matter how small, is always better than doing nothing.
It's Even a Goal Setting Hack for Family
The Two Minute Rule applies to family too. If you want to engage and be more present with your kids, start with two minutes. Put cell phones and other devices away for two minutes. Look at your kids and ask them questions. Play with them or talk with them for two minutes without doing anything else.

Get Going For Two Minutes
Remember the the Two Minute Rule can be applied to any task that feels impossible to conquer. It can also be applied to any habit you want to start.. You may believe that everything needs to be in place before you begin to make it work. This is not true. Decide what you can do in two minutes and do it. Every two minutes you spend on your goals, is two minutes you spend on being the woman you want to be.

If you like this goal setting hack, get the #1 tip for goal setting here.
Don't forget to sign up for the Rose Gold Mine, my free resource library. You'll get free printable worksheets, workbooks, and checklists to help with goal setting, time management and self-care and busy moms.