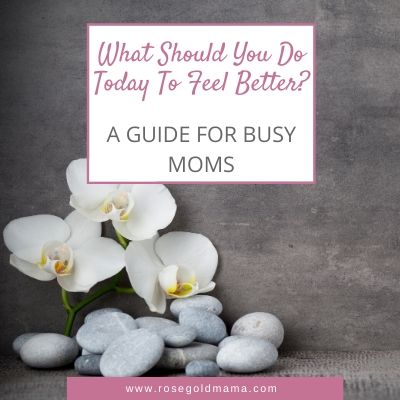 Even when things seem to be sailing along and I'm in the zone, out of nowhere, a bout of irritable or ennui can pop up. It's like the pressure of doing it all and the monotony of doing the same collide, and then I just don't feel great. Following is a list of actions I found I can take to feel better in the moment. I shared these with other busy moms, and as it turns out, they help them too. Read through the list then download the worksheet below. Hang it up in a place that will remind you to try one when you're feeling down.
Take A Moment To Be Grateful
Gratitude can change your energy. It can make your energy more positive in an instant. While it can be tough to conjure up gratitude in the moment, it's not impossible. There are things that you're grateful for in life, take a minute right now to write those things down. It could be the people in your life, the experiences in your life, or even things that you've achieved. Write these down now. Then when the going gets tough, it's easier to refer back to them and focus on and be grateful for the positive aspects of your life.

Plan A Memory
Planning a memory is one of my favorite things to do when I'm feeling down. It gives me a moment to pause and think about a brighter and better future. When you want to feel better, try this, take a moment to think about a memory you would like to have, maybe it's playing in the park with your kids, a romantic date with your partner, or an excellent conversation with your mom. Whatever it is, whatever memory you want to have that you don't have right now take some time to think about that memory and plan how you might create it. Planning a memory is what you should do today and every day to feel better and create a life that you love.

Get Physical
Our bodies and our minds are connected. If you're not feeling so hot at this moment, try to get physical. It doesn't mean you need to go balls to the wall and complete 100 burpees in 10 minutes; however, it does mean that you need to move your body. If you're into burpees, go for it. If you're not, try some yoga or even simply take a walk. Moving your body is a sure way to get you out of the funk that you're in.
Watch A TEDTalk
TEDTalks are ideas worth sharing because they are often inspiring. The best part about these inspirational talks is that they are free and easy to find on YouTube. Type in a TEDTalk for something that interests you then watch it. If you do this today, you're going to feel better.

Watch A Comedy
There's nothing better than a good belly laugh when you're feeling down. Those laughs can be hard to come by when you're not in the mood. Watching a comedy can help change your emotional state.

Pick Up A Favorite Book
When you're feeling down, what you should do to feel better is pick up one of your favorite books. For me, that book is Dr. Seuss's Oh The Places You'll Go. I don't know what the book is for you, but if you pick it up and read a few pages, it will get you on your way to having a better day.

Phone A Friend
There are 1000 songs about calling on your friends when you need them for a reason. It's because it works. What you should do today if you're not feeling great is to give a good friend a ring. You don't even have to talk to them you can ask one question and merely listen to the response.
Make Plans For The Future, Near And Far
Planning is a great way to feel better because it helps take you out of the moment that you're in. Take a moment to plan for the following week and two weeks and then also for the next year and two years. What do you want out of life? What are the great things that you'd like to experience? Take some time to think through those, then write them down. If you have the time, also write down how you get to achieving and experiencing these things.
Search for some free activities in your area and then make plans to participate in them over the next couple of weeks. The planning and the thought of doing something fun will help you feel better.

Get A Massage
Nothing feels better than a massage, at least that's my take. If you can go and get a massage today, that will help you feel better. However, if your budget is a constraint, ask your spouse or friend to give you a back massage. If you can't get a full body massage, you could also go to your local nail salon and see if you can get a chair massage. Chair massages are usually a dollar a minute, and it might just be the best $15 that you spent all week.

Listen To A Podcast
Podcasts can be fun and inspiring. If you're feeling down, take a moment to just put one on. If you have a favorite comedian, they probably have a podcast. Listen to that podcast, if not put on one that's meant to inspire people.
Bake
Baking is magic when it comes to feeling better. What you should do today if you're not feeling great is to take a moment to bake. There's something about the process that is healing. You don't have to make something from scratch; baking could be as simple as using brownie mix from the grocery store. You don't have to create a big and elaborate cake from scratch; instead, you could just get a box of brownie mix from the grocery store and do it together through all the ingredients into a bowl stir it up and put it in the oven. It doesn't take long, and not only will the baking process itself help you feel better, but your family will also feel better when they get to reap the rewards of your efforts.

Clean Out A Drawer Or Closet
There is something to be said about tidying up. When you're feeling down, take a moment to clean out a closet or, even, a drawer. I don't know why cleaning up helps people feel better, but what I do know is that it is something you can do today.

Watch An Instructional YouTube Video
Take a moment to learn something new. There are thousands upon thousands of videos of "How To" videos on YouTube. If there is something you've been wondering how to do, take a moment to type it into YouTube, then watch a video or two on it. Wondering how to make scented candles, create macramé, or fix a motorcycle? All of these lessons are available. Look for one now.

Send A Letter
Writing a letter is a great way to alter your emotional state. Take a moment to write a letter to someone that you care about, fold it up, then put it in the mail. You'll feel great, and when they receive the message, they will feel amazing too.

Call Your Mom
Call your mother. She loves you, and she misses you. It's just how moms are. And you can feel good knowing that you help her feel good and that hopefully, karma will repay you in the future when your adult children call you.
For more self-care tips check out, Self-Care Tips For Moms: 5 Easy Ways To Feel Better.
Don't forget to sign up for the Rose Gold Mine, my free resource library. You'll get free printable worksheets, workbooks, and checklists to help with goal setting, time management and self-care for busy moms.
Let's makeover your routine at How To Get Unstuck.