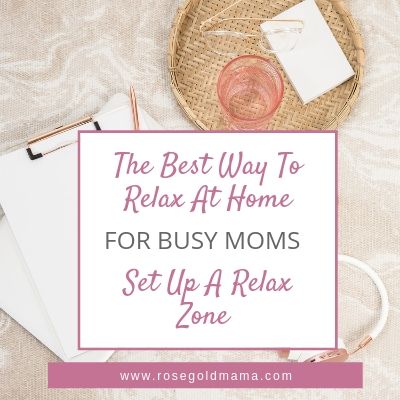 Finding a way to relax is a huge part of self-care and also a very tricky part. You know you need to, but it's really hard to prioritize it. As a working mom there are just so many things going on in your life that can easily come before relaxing. So, when people talk about relaxing things to do at home for moms, it seems, they often make wild assumptions about the available time a mom might have. Finding 30 minutes for a bubble bath is not the answer. Setting up your home to be conducive to self-care is. That's why creating a relax zone is one of the best ways to relax at home. If you need ideas about how to relax at home, download the free self-care for moms checklist below.
What is a Relax Zone
Self-care for moms is easier if you can make space for self-care. A relax zone is a space in your home dedicated to relaxing. It's where you go when you need a break. And, it is set up to offer you that break. Now, depending on the size and set up of your home your relax zone might be its own room or the corner of a room. The size of the zone doesn't really matter, the set up and intention you put behind the space does.
Why a Relax Zone Is the Best Way To Relax at Home
A relax zone is the best way to relax at home because it provides a sense of continuity and stability in your self-care routine. The space is always there and always ready for you when you need to take a load off. It's also a great way to signal to your family that you need a moment. Once they know that is the space you go to recharge it makes it easier to set boundaries with everyone.
To the kids you can say:
"Mommy is in the relax zone, let her be here for X minutes"
"Mommy needs a moment in the relax zone"
To your husband you can say
"Babe I need 15 minutes in my relax zone"
Then, let him handle the household for that time.
If your family comes home and sees you in the relax zone, they will know not to interrupt, it serves one purpose and that is to recharge you. You can remind them that when you are recharged, everything goes better for them. Seriously, setting up this space is one of the best relaxing things to do at home.
Set Up Your Relax Zone
Pick your location to relax at home
Look around your home and pick an area that is slightly off the beaten path. If you are in a small apartment the corner of the bedroom might be the place. If you are in large home you'll have more options. The ideas is to not pick the middle of the living room or the kitchen if that's where your family spends most of their time.
Pick a seat
Once you have the space you'd like to relax in, make sure you have a comfy place to sit. You can get creative here. If you've got the space for a plush chair, great! If not, maybe set aside a yoga mat and some cushions.
Gather items related to all the relaxing things you do at home
Thinks about what relaxing things you like to do it at home and gather the items you need for those. Maybe it's a scented candle, a yoga mat, your favorite book, a journal for writing and portable speaker for music. Gather the paraphernalia for relaxing things to do at home and place it near your space. Better yet, if you haven't already, create a Relax Bag (click for the link on what it is and how to do it). If you are struggling with ideas for relaxing things to do at home, download the free self-care checklist below.
Take Action On Your Relax Zone
So, now, you have your place, your comfy seat and your relaxing paraphernalia. Put them all together and let everyone know the deal. Mama has her relax zone set up. It's a special place for her to recharge. Awesome. Now, make yourself a cocktail, light your scented candle and settle in for 15 minutes (or more if you can find it).
If you want more ways to relax at home and a way to track your self-care, download the free self-care for moms checklist below. It comes with a bonus page of self-care ideas.