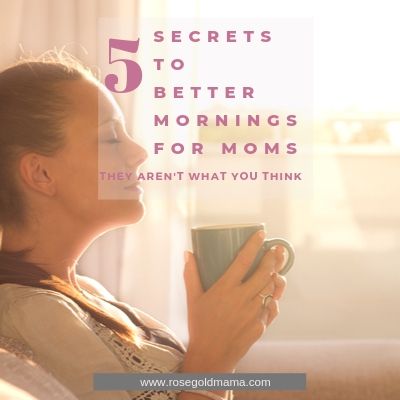 Let's face it, mornings are rough. And yet, they are the most important time of the day. How you start your morning sets the mood for your entire day. Muscling through the morning is not the most effective way to start your day. There are a few very simple things that you can do in order to have a better morning so that you can be the awesome woman you want to be.

Get Up When The Alarm Goes Off
When your alarm goes off, get up. I know it's rough and so tempting to snooze but snoozing actually makes you more groggy. If there is a time to muscle through in the morning, it's this moment. Throw the covers off and stand up. If you can get out of bed when your alarm goes off you're guaranteed to have a better day than if you snooze. I know it's rough and so tempting to snooze but snoozing actually makes you more groggy.

If you're one of those people who constantly fools herself by setting the alarm for 6AM and snoozing until 7 AM set then alarm for 7 AM. You're better off, getting that hour of continuous sleep.

Move With Intention
Your body needs time to wake up just as much as your mind. Take some time each morning to move with the intention of waking your body up. This can be as simple as 5 to 7 minutes of stretching or as intense as a full on CrossFit workout. It doesn't matter if you go fast and hard or slow and easy. It's just about moving with the intention of getting your body ready for the day. When you do this you'll be setting yourself up to make it through lunch, pass that afternoon slump and into the evening feeling energized
Eat Some Protein
The old adage is true, breakfast is the most important meal of the day. It does matter what you eat. Toast and tea are cute on the weekends but not the kind of food that will power you through your busy workday. Make sure that you have some protein each morning. This can come in the form of Greek yogurt, eggs, a protein smoothie or even peanut butter.
Hydrate
After an evening of fasting, which simply means not eating, your body needs to replenish both food and water. Hydrate. You can do this with actual water or any decaffeinated beverage. Not only will this help your body, it will get your brain going.
Show Gratitude
The attitude for success is gratitude. A sure fire way to keep the morning grumpys at bay, is to make it a practice to state what you're grateful for each morning. Take a moment to say out loud three things you're grateful for or even better write them down.

Take Action
Now that you know some simple ways to have a better morning. It's time to take action. First, picture yourself completing these steps tomorrow morning. Then, set your alarm for a time you'll actually to wake up. Determine what you're going to have for breakfast and then put a glass of water next to your bed. Set out a tablet and pen to write down the things you're grateful for. Finally, tell someone that you are going to have a better morning starting tomorrow and explain how.
Looking for more? Check out this life changing time management for tip moms.
Don't forget to sign up for the Rose Gold Mine, my free resource library. You'll get  free printable worksheets, workbooks, and checklists to help with goal setting, time management and self-care for busy moms.