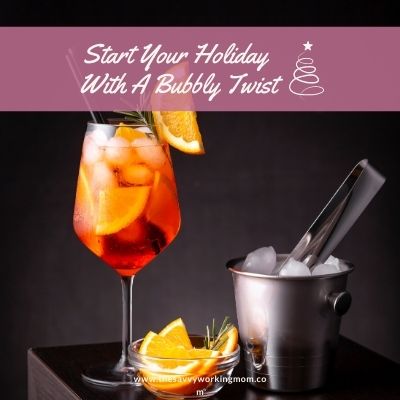 It's time to mix up your mimosa with a new brunch cocktail, the Aperol Spritz, with a festive twist. This Italian cocktail with a twist is refreshing and super easy to make. It'll be the perfect holiday drink to sip on while the kids open gifts, and while you all spend quality time together being cozy on the couch.
Ingredients
5 oz sparkling wine, chilled
2 oz Aperol
1 oz Club Soda
1 oz Cranberry or Pomegranate Juice
1 Orange Wedge
1 Sprig of Rosemary
Instructions:
Pour all ingredients into a large wine glass over ice.
Add the orange wedge and sprig of rosemary.
Sometimes you want the bubbles but not all that sweetness. In those instances, this will become your go-to holiday brunch cocktail. Super simple, pour, sip, enjoy! A couple of tips:
Use as much or as little Aperol as you like.
Use as much or as little club soda as you like.
Use as much or as little cranberry or pomegranate juice as you like.
An Aperol Spritz is, in fact, Italian as is Prosecco, so if you want to be a traditionalist, use prosecco instead of sparkling wine.
And one small rant:
Don't use real champagne. Seriously, what is the point of masking the taste and wasting that deliciousness? Just use a good California Sparkling, Spanish Cava, or Italian Prosecco.
Don't forget to sign up for my free resource library. You'll get free printable worksheets, workbooks, and checklists to help with goal setting, time management and self-care for busy moms.
Are you willing to reserve 10 minutes each day for yourself? Get access to the 10 Minutes to Better Days video course at How To Get Unstuck.