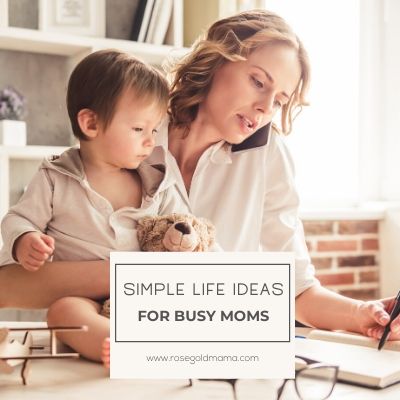 A simple life means more room for experiences and peace. When I found out we were having a second child; I started to think about all the things we are going to need to support him. Living in a tiny New York apartment, my brain quickly switched to, "What can we get rid of?". This question led to a revelation – we needed less stuff, and not more, to prepare for our new son. We also required to do fewer things so that we could have more time to spend on what mattered most: our family, our careers, our side hustles, and our friends.
Here are a few ideas that can help you as a busy mom to simplify your life too. A simple life doesn't mean getting rid of all your stuff and living without electricity; instead, it means letting go of the excess and amassing time for what you love. To help you get started today check out the Simple Life Checklist at the bottom of this article.

Ask Yourself More Questions
Asking yourself questions can lead to a simple life filled with love and time for you, your career, and your family. Some of these questions you may not like the answer to, and that's OK, the point is to ask them, reflect honestly, and then act accordingly. Here are a few:
When purchasing something, ask, can I live without this rather than do I need/want this?
What value does this event/thing bring to my life?
Why do I need this thing?
Is this the right investment of my time and energy to move me towards a life I love?
Is this something that I genuinely want, or is it something I'm doing because someone else wants it?
Are my current actions based on my own opinion and what I need in life or someone else's opinion and what they think I should be doing?
Design Your Life For You
In and of itself, life can be complicated. It only gets more complex when we worry about what others think or when we compare ourselves to others without fully understanding their backstories and journeys. Your life is yours and yours alone. Only you can know what's right for you. Design your life accordingly. A simple life is free of the opinions of others and filled with your sense of purpose and joy. Design your life for you as if it weren't on a stage to be judged by others.

Focus On Experiences
A simple life has fewer things in it and more experiences within it. Take time to focus on the experiences that you have, and will have, rather than the things that you don't have and could have. The same way that you might create a shopping list or a wish list of items for Christmas, take time to create a list of experiences you would like to enjoy. Focus on those when it comes time to think about where your energy and money goes. Leave the stuff to the side.

Simplify Your Life By Cutting Back To One Credit Card
I'm not sure how it happened, but credit cards creep into our wallet. An excellent offer for points or miles can usually get us to apply for a new card. When our wallets become complex, then our lives become complex. It takes time to manage and understand which credit card payments need to be made. It takes time to understand and manage the rewards you are getting across the different brands. Those rewards also get diluted as you spend here and spend there. Cut back to one credit card. Carry one credit card in your wallet and let that be that. This will help simplicity come into your life.

A Simple Life Means A Decluttered Home
Clearing clutter from your home is challenging but well worth the effort. A simple life includes a decluttered home. Take time to go through all of the items in your house and ask yourself, "Can I live without this?". If the answer is yes set it aside for donation. It's not to say that you shouldn't have pretty shiny things in your home, of course, you can and you should. It is to say that every item in your home should be bringing you value.

Simplify Your Phone
A simple life can start with a simple phone. I'm not saying you have to go back to the days of the flip phone, but you should take a look at the complexity of what's stored on your phone. How many apps do you have? How often do you use those apps? What value are those apps bringing to your life? What are those apps taking away from your life? Go through your phone and delete any unnecessary apps and those that distract you from living a life you love.

Ditch Cable
A simple life is not filled with mind-numbing activity. Cable television can be very distracting. Get rid of it. It doesn't mean you have to stop watching TV altogether; it just means that you should be more intentional about what you watch. Streaming services are valuable in this way. You can create a list of things that you're interested in and specifically watch those without commercials rather than flipping through 300 channels of nothing on.

Get a Library Card
A simple life includes getting out of the house. It also includes engaging with your community and reducing the number of things you own. Surprisingly a library card helps with all of this. Get a library card, go to your local library, and take advantage of everything they have to offer.

Take Action
A simple life is also a life full of action. Action that drives you towards living a life you love. Therefore, if any of these ideas feel like something that could help you live more simply, then try one today. You can download the worksheet below to help remind you of each one, and you can check them off as you go. There's space in the free worksheet for you to add your own ideas and write notes about how each of these ideas worked for you.
For more tips on living a simple life check out, Minimalist Living Ideas For Self-Care.
Don't forget to sign up for the Rose Gold Mine, my free resource library. You'll get free printable worksheets, workbooks, and checklists to help with goal setting, time management and self-care for busy moms. 
Are you willing to reserve 10 minutes each day for yourself? Get access to the 10 Minutes to Better Days video course at How To Get Unstuck.