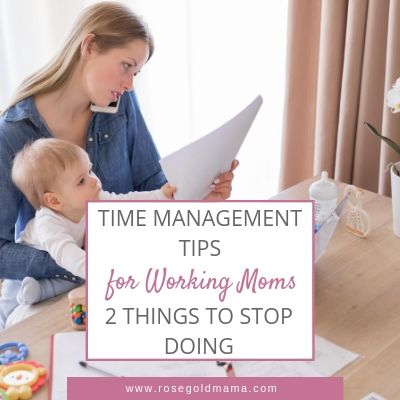 There are so many responsibilities for working moms. The need to achieve career, family and personal goals can be overwhelming. With so much going on effective time management is paramount to a working mom having great days and getting it done.
When you don't manage your time effectively you can start to feel burnt out. It can start to  feel like you will never get through your to-do list. No matter how many boxes you check, it can feel like  there is always more to do. This is exhausting and demoralizing. You can even  feel like you're not enough, simply because you aren't managing your time correctly. It doesn't have to be this way. There are two things you should stop doing so that you can conquer your to-do list and better manage your time.  If you need help figuring out what to put on your to-do list, download the to-do or not to-do list below.
Stop Half-Work 
Effective time management comes when you stop partially completing things. If you have a task to do do it fully and completely before you move onto the next thing. This goes for the office, your home and every other area of your life. 
If you've got laundry to do, complete it. Wash, dry, fold and put away all the clothes in one fell swoop. If you are working on a presentation, finish it. Do the research, create the content, finalize the design in one sitting.
Don't half finish things. When you do half-work you are bound to start to feel demoralized and like your to do list will never end. You are amazing and should never feel like you aren't enough. Stopping half-work will not only help you to get more done, it will help you to feel better.
Stop Striving for Perfection 
Perfection is an idea not to state. Very few things are ever going to be perfect. That's OK. You need to accept that OK is alright. By definition OK is acceptable. As you go through all of the tasks on your list, make a note to yourself about which ones are OK to be just OK. Then, do those things in a way where they are acceptable and move on. Do not try to do everything perfectly.
When you try to do everything perfectly you are setting yourself up for failure. Perfection can be the enemy of effective time management. While perfection may be required in very specific and niche areas of your life it is not required everywhere. Understand which of the areas in your life must have perfection and let the rest go. 
Perfect can be the enemy of getting things done. Sometimes all you need to do is just get it done. Check it off the list and move on. Often times perfection is not attainable and so looking to be perfect in every way is setting yourself up for failure. You don't need to be perfect to be great. You don't need to be perfect to be wonderful. You don't need to be perfect for your kids to love you. You don't need to be perfect to move forward in your career. Being great is not the same as being perfect.
Take Action For More Effective Time Management
Now it's time to take action on these time management tips. Take a look at your to-do list and see which of the tasks on there are related to half done things. Finish those things first and from this point on commit to yourself that you will do no more half work. Commit that you will fully complete the things you were working on. Next, take a look at all of the tasks on your to-do list and mark which ones must be perfect. Then, readjust your mindset to let everything else be OK. Doing these thing will help to be have effective time management skills.
More Time Management Tips
If you're looking for more time management tips you can check out this article on how to create a time budget. A time budget helps to ensure that you are investing your time and what matters most. Remember, where you invest your time you invest your life.
Don't forget to get the to-do or not to-do list below.