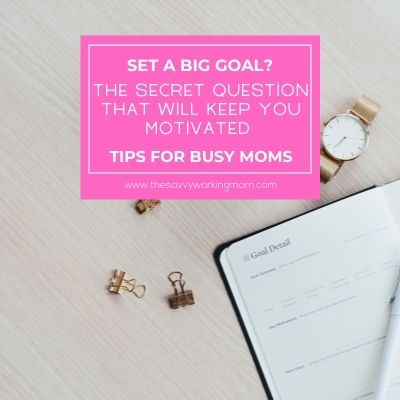 Running out of motivation? Not quite feeling up to the challenge of your goal or resolution? I know how to keep you jazzed about your goals and ready to take action. Doing one small thing and asking yourself this one very simple question – neither of which are what you think they are.
My hope for you and myself is that even through the ups and downs of the year ahead, when we make it to next year and we look back over this year, we can say we achieved all of the goals and resolutions we set for ourselves.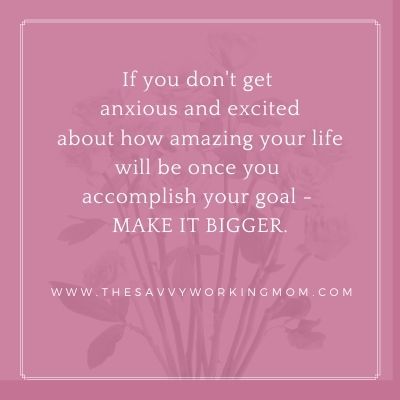 The Action
If you are starting to feel like you have less motivation or are feeling like you cannot achieve your goal – do NOT make your goal smaller! Instead, make your goal BIGGER. Your goal should scare you right out of your leggings(because none of us are wearing pants anymore, right?!). When you think about your goal, you should think, "Wow, if I achieve this, my entire life would change for the better in a big way!" If your current goal doesn't make you feel this way. If you don't get anxious and excited about how amazing your life will be once you accomplish your goal – MAKE IT BIGGER.
In order to keep going, as life happens, you have to be excited deep within yourself. For us, mamas, life is happening all of the time. Therefore we must have a fiery passion for our goals to achieve them. Once you have this fiery passion and excitement deep within yourself, achieving the goal becomes worth more than the habits you've built up. It makes it easier to change those habits when you know why you want to achieve your goal.
The Question
Aske yourself – When I achieve this big scary goal, how does my life get better, and how does my family's life get better? How does this goal help my kids?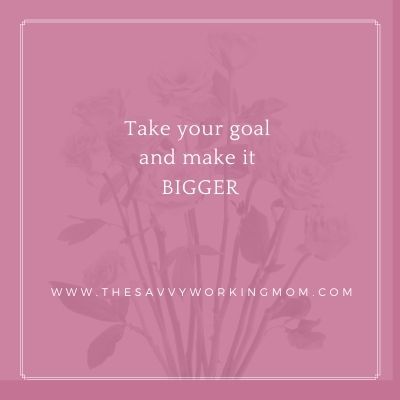 Take Action
Please take a minute right now to pause and rewrite your goals to make them bigger. If your goal is to lose 15 pounds, change it to losing 20 pounds. Do you want to run a marathon? Decide to run two marathons. If your goal is to save $100, switch it to saving $500. Take your goal and make it bigger. Make it big enough that it scares you a little. Next, write down how this will impact your life for the better and the life of your family. Remember, mama, there is power in writing down your goals!
Like what you're reading? Check out Got Goals? Got Resolutions? The 5 Part Strategy To Make Them Stick for more help achieving your goals!
Don't forget to sign up for my free resource library. You'll get free printable worksheets, workbooks, and checklists to help with goal setting, time management and self-care for busy moms.
Learn to ask for support and free your time without letting go of our responsibilities at How To Get Unstuck.