Start Creating Better Days, Today
Self-paced courses to help you thrive as a working mom
I considered myself great at time management as a single woman but the addition of a husband and baby to my life changed everything! Whitnee's encouraging emails have helped me to transition and successfully reorder my life to meet my professional, personal and family goals. I move closer to my ideal life every week!
Spend Your Time on the Things That Matter Most
I get it: you're a working mom with a lot going on, and you don't have time for one more thing that doesn't produce results. If you take a class, you want it to be streamlined and effective. If you join a challenge, it has to yield major benefits.
Despite your no-nonsense, high-achieving approach to life, you're still feeling discontent, unsure about the direction you're going, and a little burnt out. You're not quite ready to go all in on a one-on-one coaching package, but you know you need something to act as a catalyst for change.
I have good news: these courses were created specifically for you. They'll get you started on the next chapter of your personal development, and open the door for better days.
Start Creating Better Days, Today
With three self-paced courses to choose from, I guarantee there is one that's right for your current level of time, energy, and commitment. Ultimately, it doesn't matter whether you start big or start small as you begin creating better days; what matters is that you start today.
Like in the10 Minutes to Better Days video course, the Mom Reboot Workbook focuses on the importance of self-care.
It's a simple, straightforward  guide for all of the self-motivated working moms out there who just want the info without any fluff.
Valued at $20
Get it for only $7
10 Minutes to Better Days Video Course
You've heard that self-care is important, but you're not sure what that means for you or how to be consistent.
In this interactive video course, you'll learn how to create a sustainable and effective self-care routine in less than 10 minutes a day.
Valued at $220
Get it for only $25
The Obliterate Overwhelm Toolkit
In less than 15 minutes a day you can take back control and find joy at work and at home. 
If you want a complete system for creating your best life, this easy to follow video course is for you. 

You'll learn how to prioritize your life so you can advance your career, take care of your self and your family, and ultimately live a life of joy.
Valued at $1,150
Get it for only $197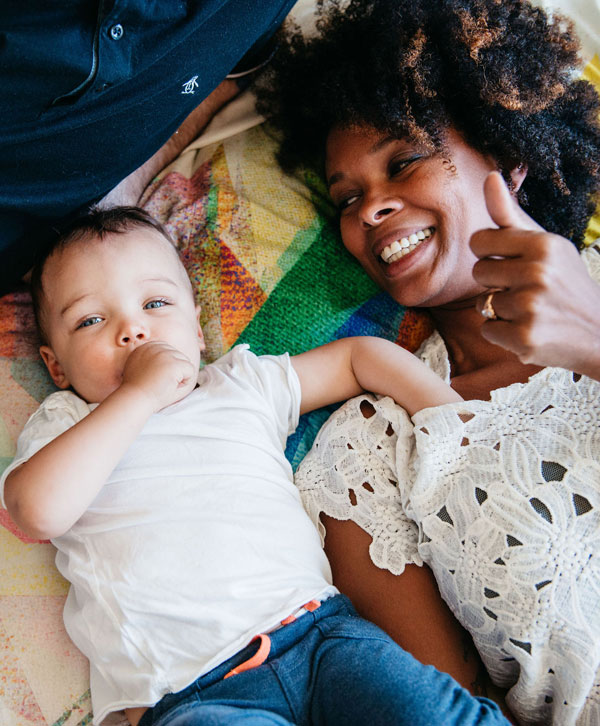 The Working Mom's Obliterate Overwhelm Tookit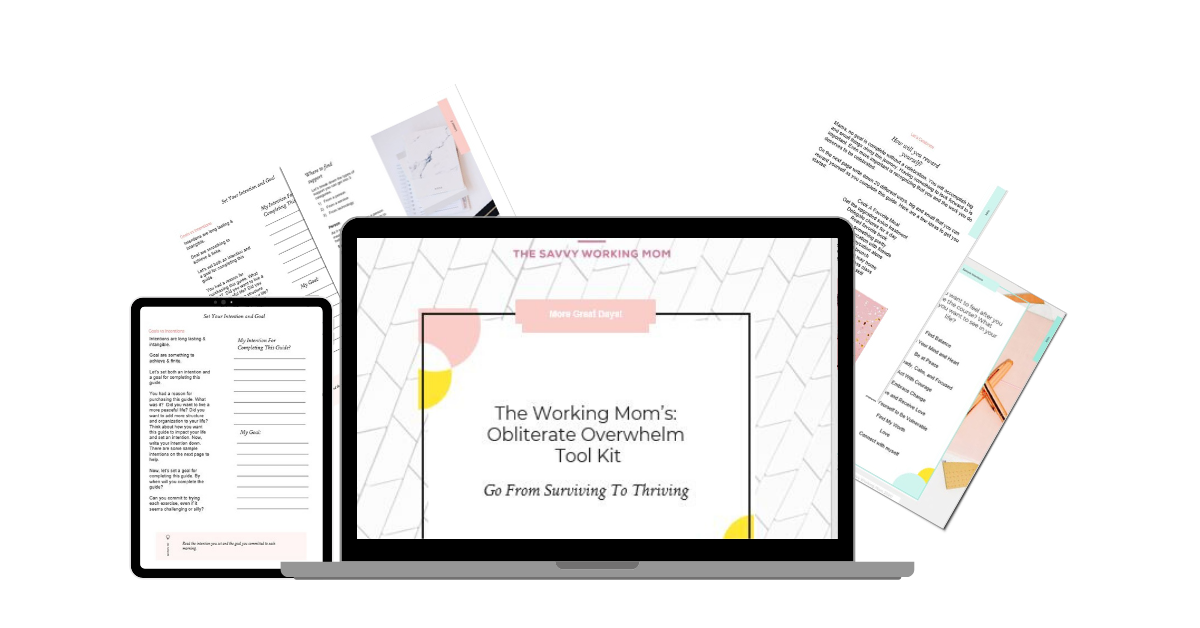 How would you feel if you

 woke up each morning feeling energized and excited and went to bed each night feeling proud

, accomplished and content? 
Imagine feeling like life is easy, 

knowing you're an amazing mother, excelling at work and loving each day.
25  quick, engaging and innovative videos
 Printable productivity planner
 A full breakdown of the 9 areas of life for a working mom

10 ways to say "no" without feeling bad
  A step by step process to manage your time
A delegation checklist 

Goal setting worksheets
An action plan to help you become more present with family and at work.

Done for you gratitude practice
 THIS IS RIGHT FOR YOU IF….
You just can't seem to manage your time the same way you did before kids
You have a never-ending to do list and it's causing you anxiety or guilt.. 
You have trouble being present at home and at work
You wake up overwhelmed with everything you need to get done that day 
Days and even weeks go by and when you look back you feel like you've accomplished nothing 
You feel stress and guilt most days.
10 Minutes to Better Days Video Course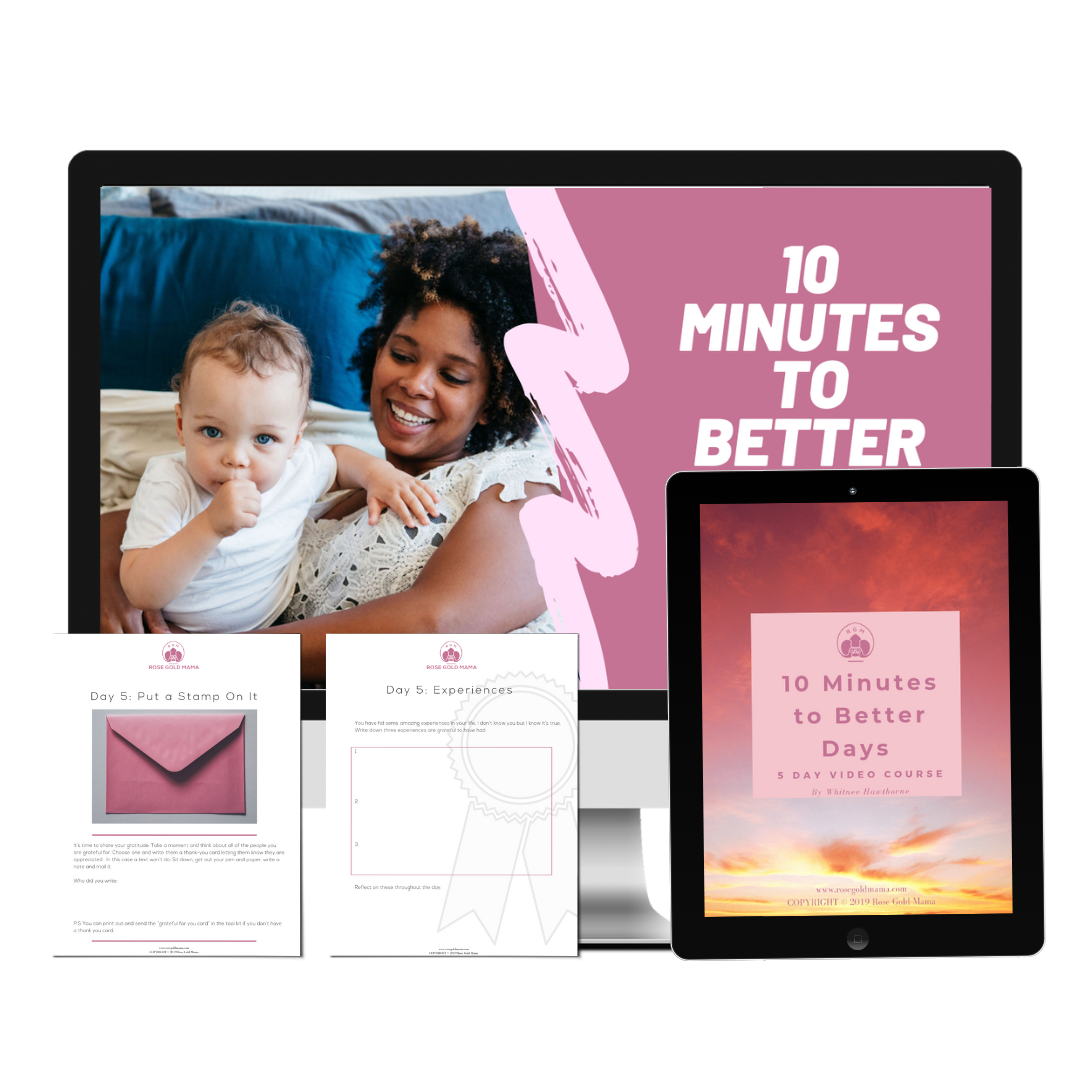 If you are exhausted, overwhelmed, and you have no idea how to revive yourself (or even when you'd fit anything else in), this is the video course you need. It's fast, efficient, and effective.
You'll receive: 
An accompanying 

5-day video course

An e-book on self-care

Your very own 

self-care calendar and tracker

 to get you started
Though you won't have the community or direct interaction with Whitnee that are included in the More Great Days video course, by the time you finish10 Minutes to Better Days, you will have a set of self-care ideas and a plan for prioritizing them in your busy life. As you begin to follow your self-care plan, your days will start to shift for the better!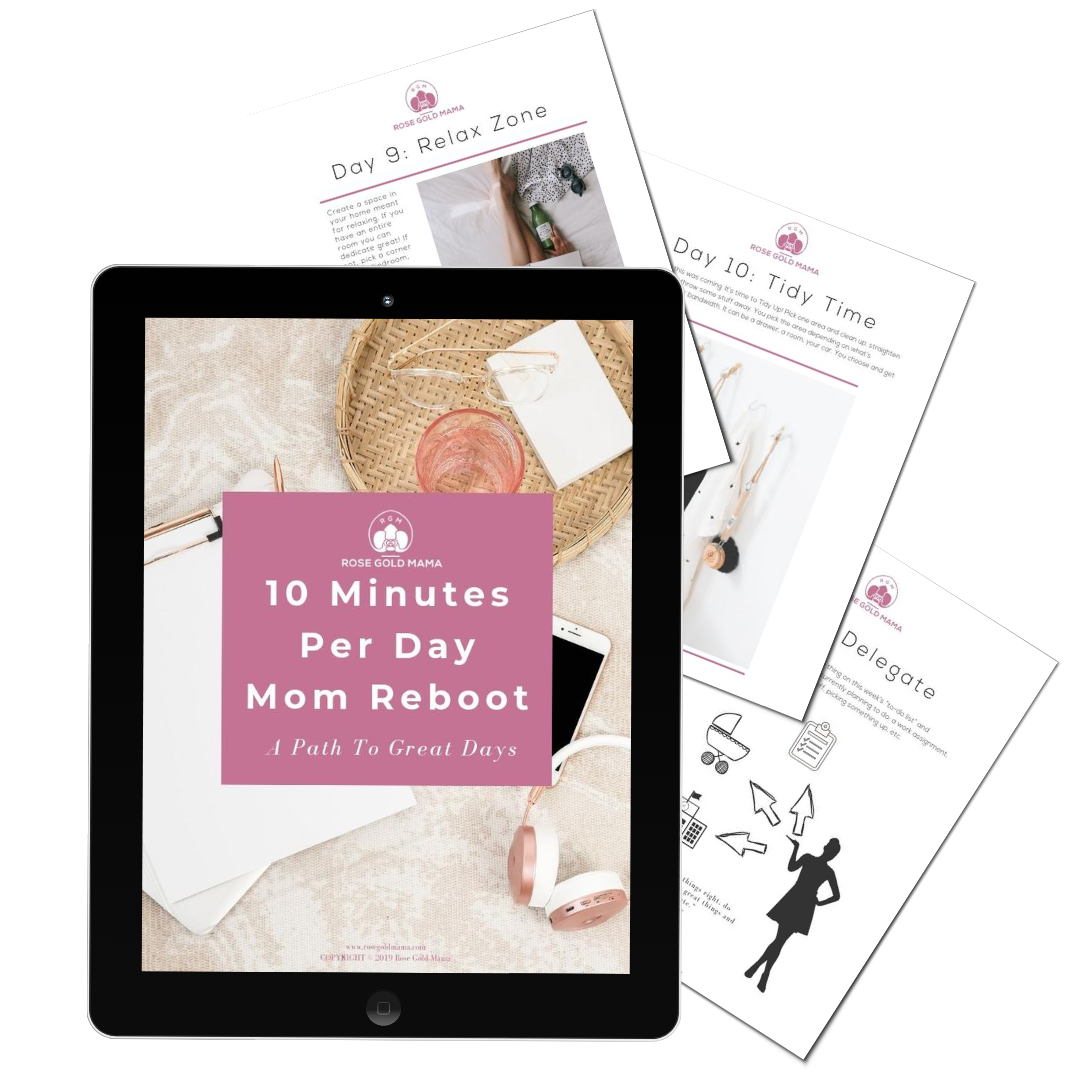 Even without the video courses, ebook, or tracker, the Mom Reboot Workbook is still an effective tool for introducing a self-care routine into your life. If you prefer written content over video and are self-motivated, snag this workbook for an amazing price and begin bettering your days today.
Do the workbook solo for only $7
"Working moms so need this.Thank you for putting it out there.""
How would you like next week to be different?
How would you like to have More Time and Less Guilt by Monday?
I know you already have what it takes to create a less stressful life, but sometimes you just need a little push in the right direction. In my free video course—More Time and Less Guilt by Next Monday—I give you exactly that.
We start by learning why, and more importantly, how to get clear on what you want in life. Next, you'll use this newfound clarity to determine what to keep or cut from your life, and also learn new ways to say no. Finally, I'll share a couple of effective strategies for having better days that are productive in the right way.
Your life can literally begin to shift overnight… click below to get started!